BUT I LOVE MY LITTLE BROWN WEENIE
Wayne is a talented multi-instrumentalist songwriter and producer from Austin, TX. He is the winner of the Austin Songwriter's Competition and 2019 Songwriter of the Year.

The 'I Hate Jazz' CD has some excellent music, but mainly it's a fun journey into Wayne's sense of humor.
Fix a drink, sit back and enjoy!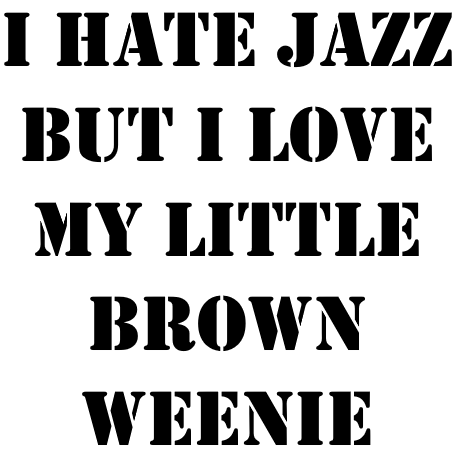 The 'I Hate Jazz' album official release date is August 15, 2020.
Songs on the 'I Hate Jazz' Album:

#1 I Hate Jazz 3:46
Hilarious song poking fun at soft jazz music, and those that play it. Interesting enough, it won 1st Place in the 2019 Austin Songwriter's Competition – in the JAZZ category!

#2 Graveyard Blues 3:18
Well played 12-bar blues song about where to put the ashes when you die. "Give 'em to my banker, that's the last thing he don't own", and other funny lines.

#3 Little Brown Weenie (1st place Novelty 2019) 3:25
If you think this is about anything but a cute little dog, your mind is in the gutter! As it says, "People love it when I take him out" and "I love to pet him every day" … you decide!

#4 Floating on a Ball 3:47
We're all together on this floating ball – but are we alone? A song about aliens performed over a soothing 1950's big band sound.

#5 One Sentence She Can't Finish 3:08
Ever had someone complete your thoughts before you say them? This is a journey into that world, with a guy that can't keep himself out of jail. Now he has to finish his own sentence.

#6 Dewberry Duel 3:47
A true hilarious story from Wayne's past on the farm as a kid. His mother looks on in horror as her husband and another man argue over dewberries. Then she recognizes the family …

#7 Hit Song 3:11
This song just might be a hit! At least the title is. About a songwriter that got his inspiration from being called all kinds of names by his significant other.

#8 Gimme a Shot of Texas 3:47
What can happen when a Texan is stuck in New York during a blizzard? As he laments, "These cowboy boots weren't engineered for ice".

#9 My Clichés Just Don't Cut It Anymore 2:38
Wayne never got the message that songwriter's shouldn't use clichés in their songs. By his count there are over 70 known clichés in this song about a guy that can't give 'em up.

#10 15 Seconds 3:45
Funny things can happen at a Walmart, but 'love'? A fun and touching song about a 15
second coincidence that ends in a lifetime of love.

#11 The More I Drink the Worse I Sing (but the less I even care) 3:28
Wayne pokes fun of this own voice with this funny song about those that can't sing as well as others. So grab a beer and enjoy – he sounds better when you are drinking!

Plus, other great songs! Order from any digital outlet, or CONTACT WAYNE to get a physical CD shipped to your door!